BOXING HIIT GYM IN SF SUNSET DISTRICT
Reach New Heights No Matter Your Fitness Level!
Punch King Fitness offers a wide variety of programs and services to help you achieve your health, fitness, and athletic goals
Punch King Fitness is the premier training facility led by experienced, motivating coaches in a variety of class and membership options. Our state-of-the-art Punch King equipment and tracking technologies are second to none in creating a fun, results-based workout.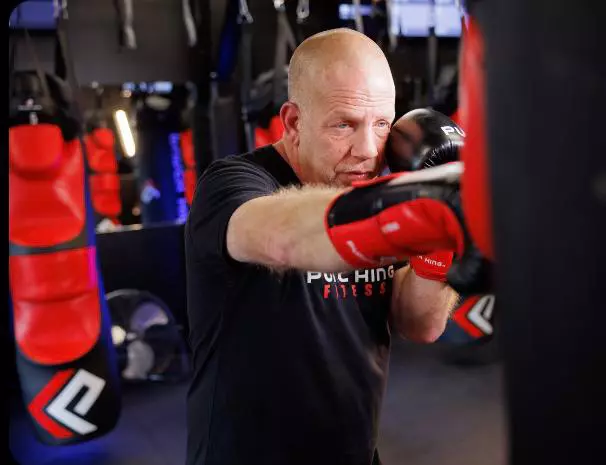 Track How Hard You Hit, How Many Punches/Kicks You Throw, And All Of Your Workouts In Your Very Own App!
You'll Be Able To Keep Track Of Your Progress, Know When You've Beaten Your Previous Best Score, And Even When You've Improved Your Strength And Started Hitting Harder!
Stay Extra Motivated During Your Workout By Keeping Track Of Your Score On One Of Our 55" 4K Mounted Displays!
What awaits you as a Member: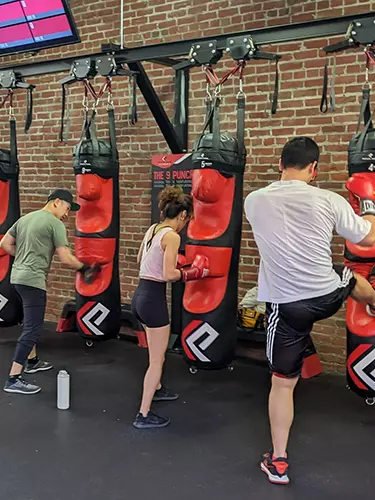 100% BEGINNER FRIENDLY!
Never Tried Boxing/Kickboxing Or Worked Out Before? NO PROBLEM! 99% Of Our Members Were Absolute Beginners When They Joined. Our Classes Are Fun For EVERYONE, No Matter Their Fitness Level, Age, Experience Or Ability!
BUILD STRENGTH, BURN FAT!
Tired Of Boring Cardio And Never Seeing Any REAL Results? Our Full Body High Intensity Boxing/Kickboxing Workouts Burn Fat, Build Strength And Tone All At The Same Time!
MOST FUN WORKOUT EVER!
Hate Boring Workouts? Our 47 Minutes Kickboxing Workouts Are The Most Fun Workout You'll Ever Have! Let Off Some Steam And Punch And Kick Your Way Into The Happiest And Healthiest You've Ever Been!
Kaye T.
Newark, CA
If you're looking to get a really good workout going, this place is the perfect fit! They have the most modern equipment to keep the workout engaging and the people who come here are a mix of great people! So don't feel shy about coming in. 🙂 One improvement I would suggest though is that the breaks just be a teeny bit longer than 30 seconds because I was running and choking on my water to get back into session LOL I wish this place had more locations as I'm located in the East Bay, so it's a bit of a drive with my busy schedule.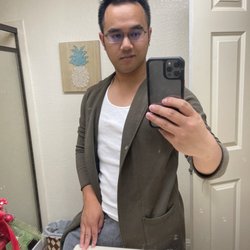 Gene D.
Milpitas, CA
I went to this place for the first time by a Yelp Elite event choice. I have nothing but good things to say about this place. For me, I attended a "Cardio Boxing" session around 9AM since I had spare time. I borrowed a pair of the joints gloves since I didn't have boxing gloves. The whole session consisted of me focusing on the elaborate punching bags. What makes Punch King different compared to other joints revolves on their high tech bags. There is a sort of score system that depends on the amount of hits, intensity, technique? and so on. What i found really impressive was how the instructor taught me how to do proper boxing for the first time. To where even a complete beginner like me was able to fully understand the concept in one session. It must be noted Punch King is more focused towards "workout" sessions as a whole rather than teaching boxing as a combat/martial art. Even so, this is an excellent experience with real intensity. My only question is whether Punch King would be open to teaching boxing in the martial art aspect, as I would have a great interest in it as well.
Natalie T.
Bronx, NY
My usual kickboxing spot closed down for business so I've been searching for a new home. WOW! Their equipment is awesome and our trainer, Jesse, is both helpful and thorough. He pushed us hard all while being supportive and giving great individualized feedback. I already plan on being a regular here. I highly recommend this place whether you have experience or not. Jesse motivated us to work our asses off because he kept pushing us with hardly any breaks. I saw a new side of myself today and didn't know my own strength. Thanks Punch King, I had a blast!
PUNCH KING FITNESS SUNSET
1588 Noriega St. San Francisco, CA 94122
Tel. No: (415) 702 6262
CHECK OUR OTHER LOCATIONS:
We are open for Franchising. Sign-up to get info: